What does a plus sign (+) in an energy map indicate?
A plus sign (+) indicates that the person's energy in that dynamic is borderline to the next highest intensity level. For example, a Deliberate+ in Explore indicates almost Effortless energy when operating in that dynamic.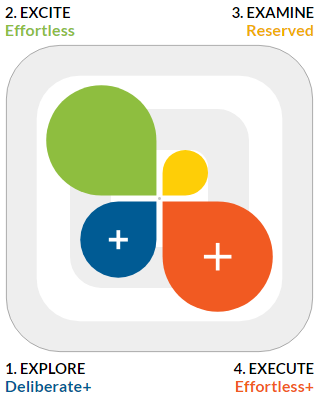 Related Articles

I need help on the Network page

Viewing Your Network The main Network page lists everyone currently in your organization's network and allows you to work directly with another individual. This page is divided into three panels: My Connections, Network Members, and Pending ...

Ideas for Individuals

Below are some simple ways individuals can use Simpli5® in their everyday work. Sign up for our quarterly newsletter to get valuable Simpli5 insights directly in your inbox. Go to Simpli5.com and scroll to the bottom of the page; enter your email in ...

Simpli5 Individual Content (Overview)

The individual content, as with all Simpli5 content, takes a strengths-based approach. They are great for getting a better understanding of self. They use a simple language and visual format to express each person's innate approach to the world. "Ah, ...

I need help working with a team

Working with a Team To learn more about a team listed in the main Teams panel, tap the team name to open that team's main page. The Team page includes the Team Overview panel, Team Energy panel, and Team Reports and Resources. Here is a brief ...

I need help on the My 5 Dynamics page

Understanding Your Own Energy Pattern My 5 Dynamics is your landing page on login; here you can tap the module boxes for videos and your Individual Content—including Work Preferences, Energy Map, Time Map, Performance Cycle, Learning Preferences, and ...